Top Stories
Ground Water Resources Commission Issues Water Management Report
Thursday, March 15, 2012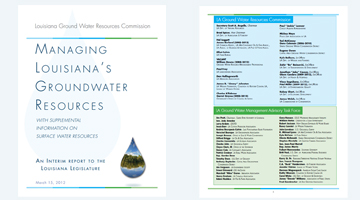 BATON ROUGE – The Louisiana Ground Water Resources Commission today fulfilled a directive made by state legislators in 2010 to provide a report by 2012 on the state's ground water and surface water to members of the House Natural Resources and Environment Committee and the Senate Natural Resources and Environmental Quality committees.
Department of Natural Resources (DNR) Secretary Scott Angelle, chairman of the state Ground Water Resources Commission, said that the report – being delivered in accordance with 2010's House Concurrent Resolution (HCR) 1, authored by Rep. Jim Fannin – is not an ending, but a continuation of the state's efforts to manage its water resources.
"I appreciate the wisdom of Rep. Jim Fannin in authoring HCR 1 of 2010, which has provided guidance to help focus the continuing efforts in evaluation of our water resources," Angelle said. "Rep. Fannin has certainly been a leader in water conservation, and this resolution has provided the authority for the Ground Water Commission to assemble a document that can help guide us as we prepare to start the next chapter in this state's history of water management."
The document, "Managing Louisiana's Ground Water Resources, With Supplemental Information on Surface Water Resources: An Interim Report to the Louisiana Legislature," recognizes the enormous value of water resources; the need to aggressively expand monitoring and to take measures to sustain the resources; the inextricable connection between ground and surface water; as well as, the importance of conservation education and greater public awareness.
"I am gratified to see that Louisiana's Ground Water Resources Commission and our state resource agencies put such outstanding energy and effort into a comprehensive report on the past, present and possible future of water management in this state, giving legislators and regulators a baseline document from which to make sound, science-based decisions on water policy," Fannin said.
Angelle noted that the report can also provide information of use to other state agencies that regulate activities dealing with various aspects of water use – such as the Louisiana's Department of Agriculture and Forestry (LDAF) and Department of Environment Quality (DEQ).
"Louisiana's population will significantly increase in the next decade, so it is imperative that we have the food and fiber supply to meet these growing needs. This can only be done by effectively managing our water resources," said LDAF Commissioner Mike Strain.
The report addresses the needs of agriculture and forestry, noting that irrigation of croplands makes up more than 40 percent of total ground water use in the state, highlighting issues in aquifers where water for irrigation is an important need. Angelle said that the report provides a framework for discussion between different agencies and interests in creating sustainable models for water use.
"I commend Secretary Angelle, his staff and all the people who contributed to this in-depth report," said DEQ Secretary Peggy Hatch. "We look forward to working with our state, local and federal partners toward comprehensive water resource management."
Angelle said that a significant element of the recommendations contained in the report is planning to increase water-monitoring capabilities in the state, creating greater efficiencies in water management through improvements in the number of areas monitored and the frequency that the data is collected. The state has already received approval for federal funding in supporting that effort, and is seeking approval from the state Legislature for the authority to make use of that funding.
"Essential elements of managing any resource are maximizing the ability to gather data on trends in its supply and use and having a forward-looking vision to make use of good science in applying that data to critical decisions on best practices for conservation and regulation," said Gary Hanson, director of LSU-Shreveport's Red River Watershed Management Institute. "This report represents a great asset to cooperative efforts in managing water resources, providing a single comprehensive document on data gathered, actions taken and issues that have arisen in the past, as well as laying the groundwork for expanding monitoring and defining that vision for the future."
Coinciding with the 105-page document is a history of ground water management since 1972, along with several appendices. Angelle said the recommendations in the report will positively benefit not only stressed aquifers, but management of all the state's aquifers.
"I find the report very informative in regards to historical information, and that is important within this type of report, which serves as a genesis document for future plans and efforts to manage water in the state," said Ted McKinney, member of the Sparta Ground Water Commission and the Sparta's delegate to the state Ground Water Resources Commission.
In the opening message to the Legislature, the report refers to the complexity in the agencies managing water resources coupled with the complex laws governing water in Louisiana. In closing, it cites the need for public policy that embraces both ground and surface water while expanding the role and membership of the Commission. The interim report is a culmination of discussions with public and private water users, stakeholders, government agencies, and elected officials over the past two years.
"This report is an excellent overview and summary of the evolution, development and current status of water problems and potential water problems, water law and regulations as they currently exist in the state," said Eugene Owen, executive chairman of Baton Rouge Water Company and member of the state Ground Water Resources Commission. "Overall, this report deserves a 'well done' to all who had a hand in it, and it makes me proud to have been a part of the Ground Water Resources Commission during its formulation."
Additionally, the report recognizes consistency with the state's Coastal Master Plan, an order requiring all state agencies to administer regulatory practices in accord with protecting the coastal resources of the state. Gov. Jindal issued the Executive Order in January 2008.
In final remarks, the Commission acknowledges the state's licensed water well drillers that help to bring residents and businesses a valuable resource and points out the need to protect and conserve this life-sustaining resource.
"Preserving and protecting our water supplies is an effort that affects everyone, from large cities to small towns, and it is critical that we have the best possible understanding of who is using water resources, what they are needed for, and how much is being used," said Pat Credeur, executive director of the Louisiana Rural Water Association (LRWA). "This comprehensive report can be a valuable tool in the LRWA's efforts in advising and providing ongoing technical assistance for our state's rural water system operators."
The Ground Water Resources Commission is composed of 19 members and the state's Ground Water Management Advisory Task Force has members from stakeholder groups, local, state and federal agencies, members of the Legislature and environmental organizations.
To see a copy of the report and associated appendices, please go to the DNR web page at http://dnr.louisiana.gov/ and click on the "Ground Water Report" tab or go directly to
http://dnr.louisiana.gov/index.cfm?md=pagebuilder&tmp=home&pid=907.
News Archives »