Office of Conservation
Environmental Division >> Ground Water Resources Program >> For Teachers
For Teachers
Ground Water Awareness Week – March 11-17, 2018
Learn more about our latest water conservation campaign, "Water-Wise in BR."
Louisiana schools are encouraged to prepare their students for a world in which best management practices and conservation can result in the protection of our natural resources - particularly our water resources. The following infomation is geared for middle school children, grades 6th through 8th.
Lesson Plan
The Water Conservation Lesson Plan includes four parts:
Part I: How Much Water Do We Really Have?

Part II: Where Does Your Water Come From?

Part III: How Much Water Do You Use Per Day?

Part IV: Managing the Water Supply
Slideshow
The following slideshow, Ground Water: Why and How We Use and Protect It in Louisiana, was developed by the Louisiana Department of Natural Resources to be used in conjunction with the Water Conservation Lesson Plan.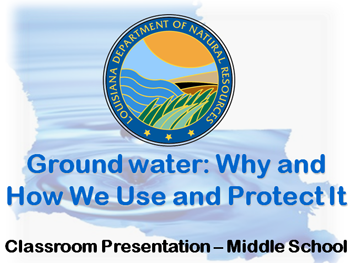 Video
The DNR Award winning Water Conservation Video was developed in conjunction with the Water Conservation Lesson plan. The video lasts approximately eleven minutes and features Louisiana actors. Contact DNR Public Information Office at 225-342-0058 to get a free copy of this video.