Technology Assessment Division
Welcome to the CNG Refueling Training Site for the
Technology Assessment Division/Energy Section of the
Louisiana Department of Natural Resources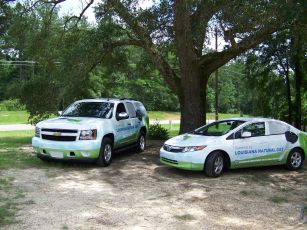 The TAD CNG Chevy Tahoe, and TAD CNG Honda Civic were both provided to the Louisiana Department of Natural Resources by the U.S. Department of Energy through the 2009 American Recovery and Reinvestment Act. Both vehicles were provided to the department in order to promote the use of Compressed Natural Gas (CNG) as an alternative fuel. The TAD GNG Honda Civic only runs on CNG, however even though the TAD CNG Chevy Tahoe will run on either CNG or regular gasoline it is importan that both vehichles run on CNG as much as possible in order to compile energy use data on the two vehicles. It is also very important that the driver be familiar with proper CNG refueling and safety procedures since by driving the vehicles you agree to re-fuel the vehicles with CNG in order to further the collection of the needed energy use data.

In order to familiarize yourself with various CNG re-fueling technology, and for your safety, before driving either of the two (2) TAD CNG vehicles, you must view the below linked instructional video which covers the steps in refueling using all four (4) of the CNG refueling technologies currently in place in Louisiana.

Once you view the instructional video you must also complete the below linked test and obtain a minimum score of 80% in order to drive either of the CNG vehicles.
View Video Take Test
Once you have completed the test please e-mail your completed test to buddy.justice@la.gov as verification that you have watched the video, passed the test, and have access to the vehicles