The Geological Oil and Gas Division administers a regulatory program to prevent waste of oil and gas, to conserve the natural resources of the State, to prevent the drilling of unnecessary wells and to protect the correlative rights of mineral owners through the application of State laws, rules, regulations, and policies of the Office of Conservation. These tasks are accomplished by managing a comprehensive program that includes accepted petroleum geological practices in conjunction with accepted petroleum engineering practices administered by the Engineering Divisions of the Office of Conservation. The Division encompasses the following sections:
The Orders Management Section is responsible for the preparation and review of Office of Conservation Orders prior to the Commissioner's signature. The section provides the Geological Division with order tracking to insure that the issuance of orders is timely with respect to the overall hearing docket evaluation process and the Office of Conservation's performance standards policies by maintaining close contact with the Geological Division's staff.
The Unitization and Digital Mapping Section is responsible for the statistical analysis of the statewide unitization activity for strategic planning and workflow support. The section also provides guidance and support to subordinate staff with policy and technical advice when necessary. The section oversees the Digital Mapping/GIS support for the various divisions of the Office of Conservation and the Department of Natural Resources relative to oil and gas well locations and maps, as well as other computer mapping, associated computer graphics, and database management and analysis. The section also provides limited support services via custom GIS maps/data for the public and industry customers for a fee in accordance with applicable administrative rules.
The Customer Assistance and Well Log Management Section is tasked with assisting visitors/callers/correspondents to/with the Division's Log Files Room with well log checkout and general oil and gas related information gathering including the preparation of the Commissioner of Conservation's Solicitation of Views Response Letters. The section is also responsible for ensuring that electrical logs submitted to the Office of Conservation are tracked and handled in accordance with the policies of the Division and applicable Laws of the State, including the secure housing of confidential status well logs.
News Releases & Announcements
Operators are required to provide well logs in electronic format.
Policy Statements & Guidelines
Useful Links
Geological Division Contact Information
Physical Address
617 North Third Street
LaSalle Building, 9th Floor
Baton Rouge, Louisiana 70802
Mailing Address
P.O. Box 94275
Baton Rouge, Louisiana 70804
Phone (225) 342-5501
Fax (225) 342-8199

Geological Division Director
David Elfert
David.Elfert@la.gov


Unitization and General Information by Area Contacts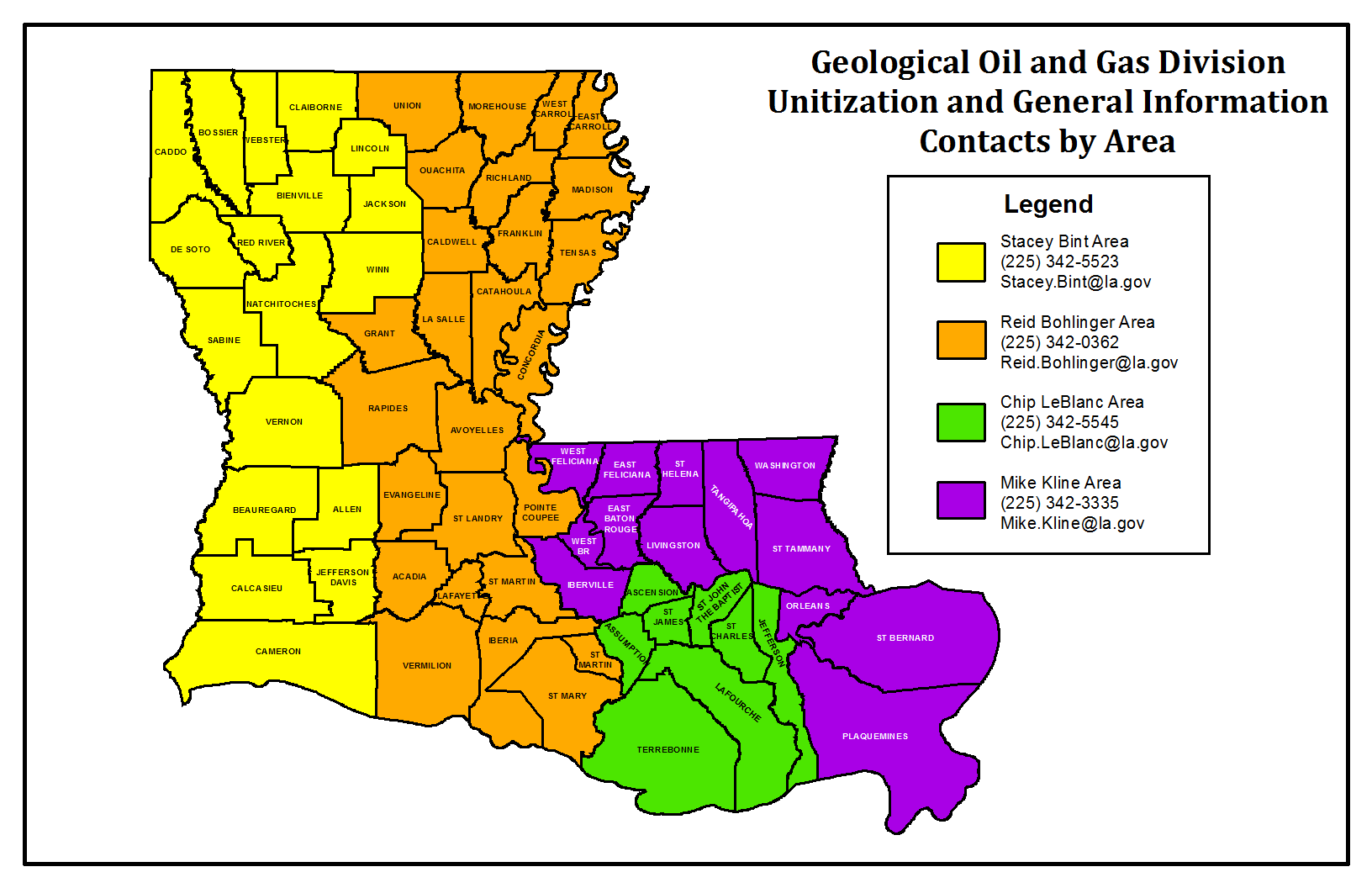 DIRECTORY
REPORT AN EMERGENCY