DNR Visitors Center
LaSalle Building Location and Directions
At the Louisiana Department of Natural Resources, we welcome visitors from all over, from New Orleans to Shreveport, from New York to California, and beyond. We've had visitors from across the globe, from places like Kazakhstan, Germany, New Zealand, Nigeria and Senegal.
Whether you are from near or far, this page has been designed to assist you in locating, and traveling to the Department of Natural Resources.
You can navigate to other areas of interest as needed, including detailed information about our headquarters offices in Baton Rouge. Click here for offices by floor.
The Welcome Center Parking Garage is open for visitor parking, located on North Street near River Road. Additionally, there is parking for LaSalle building visitors at the Galvez Parking Garage, 504 Main Street. Hourly rates for parking do apply.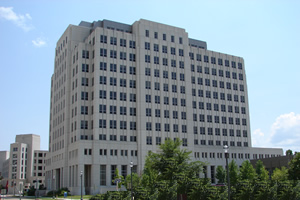 Louisiana Department of Natural Resources
LaSalle Building · 617 North Third Street
Baton Rouge, LA · 70802-5428
The LaSalle Building is located at the corner of Third Street and North Street, Baton Rouge, Louisiana.
The Department of Natural Resources completed its move and opened for business in the LaSalle Building on Tuesday, January 22, 2002.
The 12 story, 367,000 sq. ft. LaSalle Building, designed to house a total of 1,050 employees, is named after Robert Cavalier, Sieur de la Salle, the French trader who discovered the mouth of the Mississippi River and named the territory Louisiana.
A ribbon-cutting ceremony occured on the steps of the building on October 19, 2001.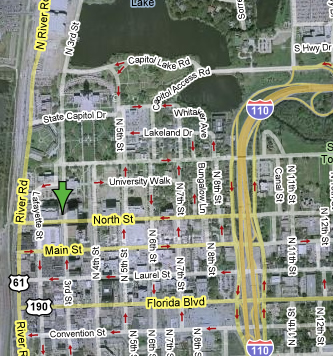 Courtesy of Google Maps.
Click here or select the image above for interactive version.