Shreveport District Office
Welcome to the Shreveport Conservation District Office web page. Here are a few notes of importance to all operators that we hope will serve as reminders to keep you in compliance.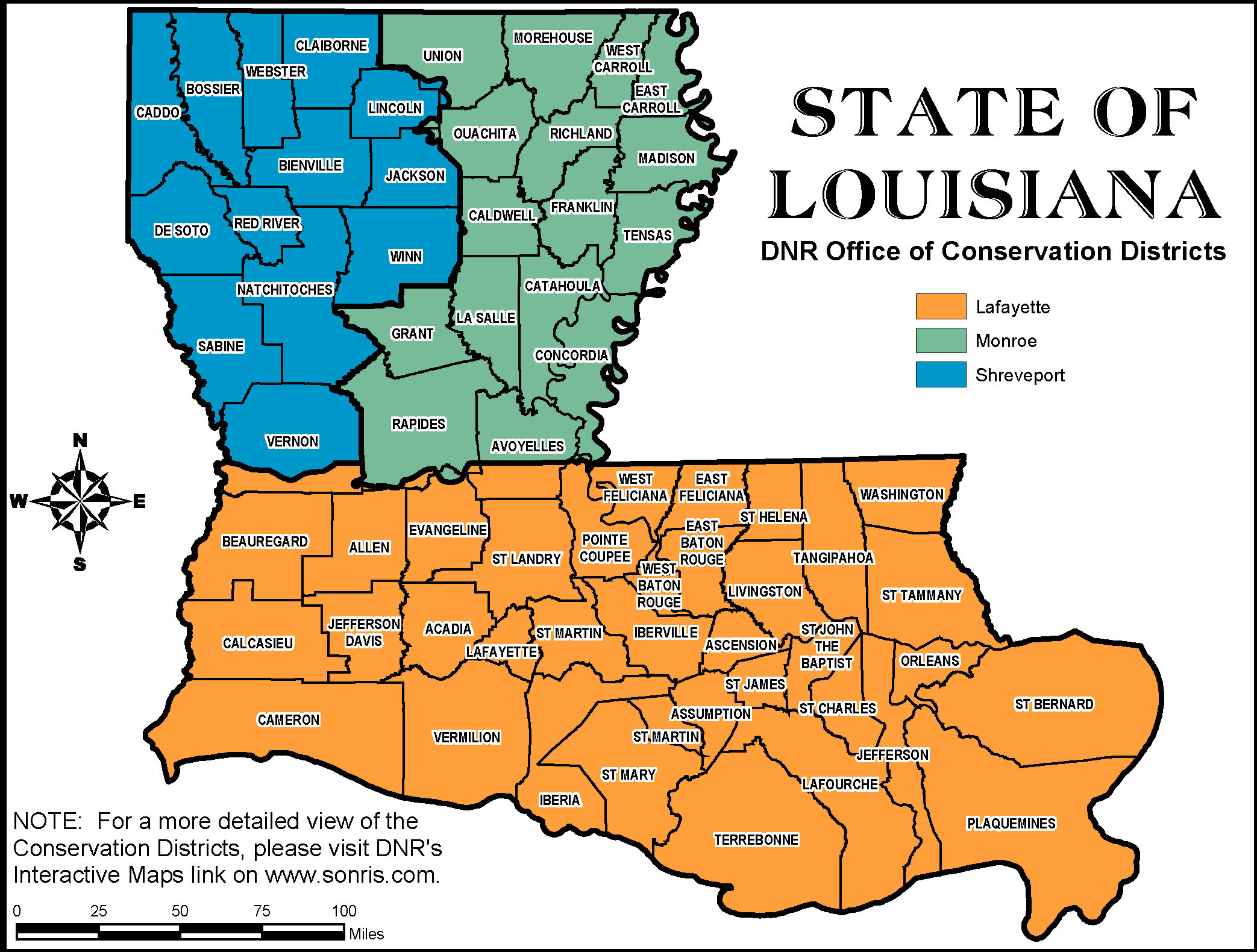 (Click map to enlarge)
Shreveport District Office News
Operators are required to provide well logs in electronic format.
Work Permit application information now available in SONRIS
Filing Drilling Reports via Email
Shreveport District Office Contact Information
Shreveport District Manager
Patrick Raley
Patrick.Raley@la.gov
Physical Address
1525 Fairfield Avenue, Suite 668
Shreveport, Louisiana 71101
Phone (318) 676-7585
Fax (318) 676-7486
DNRConservation.Shreveport@la.gov
The Shreveport District Office is open Monday through Friday, 8:00 AM to 4:30 PM. The file room closes at 3:00 PM daily.
For assistance by topic, call the Shreveport District Office at (318) 676-7585 or (318) 676-7587 and request one of the following individuals:
General Information

>> Janet Carter
>> Donna Wren

Permit to Drill

>> Patrick Raley
>> Janet Carter

Amended Permit to Drill

>> Marie Maranto
>> Donna Wren

Operator Change

>> Candice Frazier
>> Patrick Raley

Proration, Allowables

>> Donna Wren
>> Patrick Raley

Well Records, Production

>> Matthew Ellard
>> Janet Carter

Work Permits

>> Christopher Hinte
>> Matthew Ellard
>> Candice Frazier

Compliance Orders, Enforcement

>> Matthew Ellard
>> Janet Carter

Orphan Wells

>> Patrick Raley
>> Christopher Hinte

Unitization

>> Marie Maranto
>> Patrick Raley

Field/Operations Questions

>> Local CES
>> Christopher Hinte
>> Matthew Ellard

OFFICE DIRECTORY

REPORT AN EMERGENCY