Coastal Zone Boundary
The Louisiana Coastal Zone boundary is established in Louisiana Revised Statutes Article 49, §214.24. The western and eastern boundaries are the LA borders with Texas and Mississippi, respectively. The southern boundary is the state 3-mile line offshore. The inland boundary, as shown below, meanders from Texas to Mississippi. This boundary is scientific based using a wide variety of parameters, including but not limited to tidal influence, sheet flow, soils, salinity, vegetation, fish and wildlife, topography, geology, geography, economy and recreation.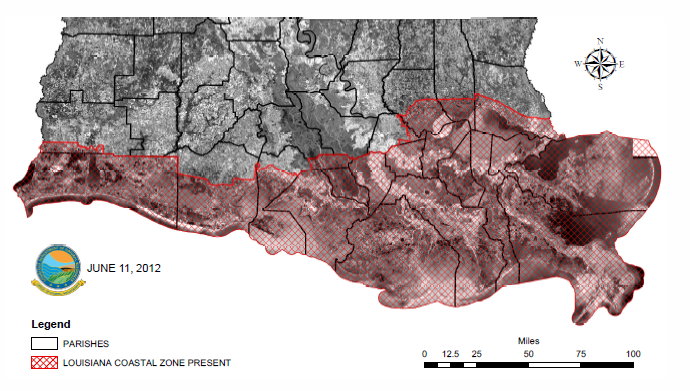 Louisiana Coastal Zone Boundary maps are available below. If you would like a 2-foot x 5-foot, wall-size map shipped to you, please contact OCM.
Coastal Zone Boundary Maps
The inland boundary of the LA Coastal Zone was modified in the 2012 Regular Session of the Louisiana Legislature with the passage of House Bill 656 (Act 588) and became effective on June 7, 2012. The boundary changes are based on the recommendations of a science-based study conducted for and approved by the Coastal Protection and Restoration Authority (CPRA), in response to Senate Concurrent Resolution 60 of the 2009 Legislative Session.
The boundary changes affect 10 of the 20 existing coastal parishes. No new parishes were added and no parishes previously in the coastal zone were removed as part of this legislative change. The Louisiana Coastal Zone now includes additional area in eight parishes (Calcasieu, Cameron, Iberia, St. Mary, St. Martin, Assumption, Terrebonne and Lafourche) and a reduction in area in 2 parishes (Livingston and Tangipahoa). No changes were made to the Coastal Zone boundaries in the remaining 10 parishes (Ascension, Jefferson, Orleans, Plaquemines, St. Bernard, St. Charles, St. James, St. John the Baptist, St. Tammany and Vermilion).
Coastal Zone Boundary Study Documents