DEPARTMENT OF NATURAL Resources
Department of Natural Resources >> Office of Conservation >> Tuscaloosa Marine Shale
Tuscaloosa Marine Shale
What is the Tuscaloosa Marine Shale (TMS)?
The Tuscaloosa Marine Shale (TMS) is a sedimentary rock formation that consists of organic-rich fine-grained materials (sediments) deposited in a marine environment that existed across the Gulf Coast region approximately 90 million years ago. The TMS includes the Eagle Ford Shale being similar in geological age. The August, 1987 Bulletin (Volume 7) of the LSU-Basin Research Institute (BRI), Baton Rouge, indicates a potential reserve of about 7 billion barrels of oil in the TMS. Its thickness varies from 500 feet in southwestern Mississippi to more than 800 feet in the southern part of the Florida Parishes in southeastern Louisiana, within an approximate depth range of 11,000 feet to the north to more than 15,000 feet to the south.
The current TMS Oil Play targets unconventional reservoirs that are petroleum source rocks where petroleum hydrocarbons (oil and gas) originated in a high pressure and temperature geological subsurface environment. Not all of the petroleum hydrocarbons originally generated have migrated out of the source rock (TMS) which is now being explored for oil and /or liquid hydrocarbons with advanced (horizontal) drilling and completion (hydraulic fracturing, called fracking) technologies in a current favorable economic climate.
The potentially productive area of the TMS Oil Play based on the LSU-BRI report is outlined on the map below.
Notice as of 11/2013: There is a new map legend for the Tuscaloosa Marine Shale Map. *Pre-production wells are those that are permitted, drilling, completing or shut-in.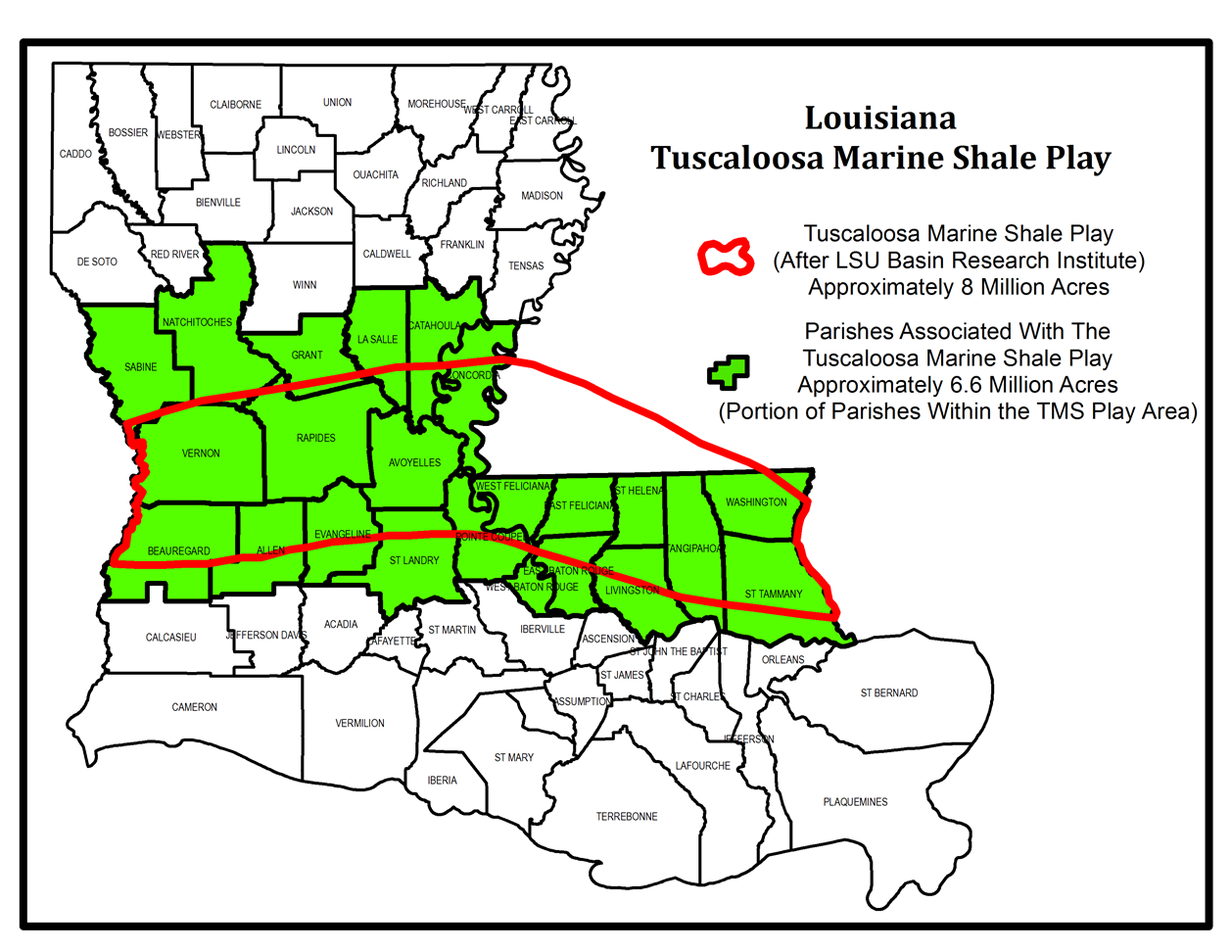 What's Happening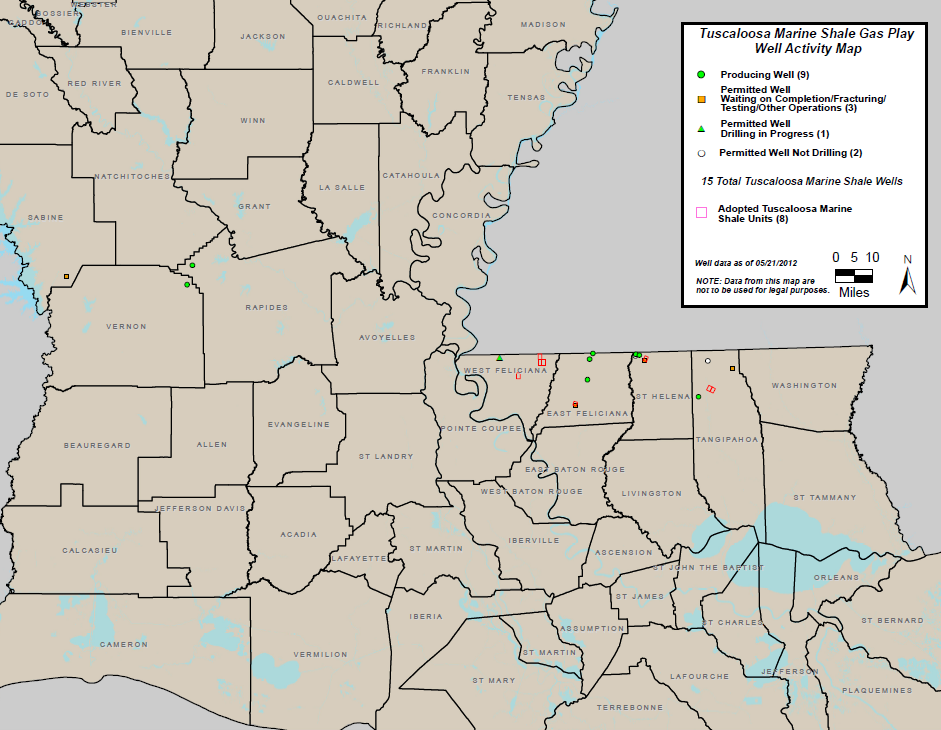 Tuscaloosa Marine Shale Gas
Play Well Activity Map


[Updated 2/2/2019]
The Role of the Department of Natural Resources

Within the state Department of Natural Resources, the offices of Conservation and Mineral Resources have roles in the exploration and production activity occurring in the state.
The Office of Conservation's duties lie in the declaration of properties as units for the purpose of oil and gas drilling and production sites, permitting of wells, inspection of wells and audits of well production. The map on this site depicts some of that activity.
The Office of Conservation has no jurisdictional authority over leases or leasing, or mineral royalty payments. No state government agency has a specified role in such agreements between private interests. Questions over terms of existing or proposed lease agreements between private individuals or groups might best be addressed by private legal counsel.
The Office of Mineral Resources' and Mineral Board's duties lie in negotiating and approving mineral leases on state-owned lands and water bottoms, and mineral leases on local government-owned land when requested by the local government. The Mineral Board also has approval authority on all government mineral lease agreements, even if local government does its own negotiating.
The Office of Mineral Resources only has authority in the leasing of government-owned property. No state government agency has a specified role in such agreements between private interests. Questions over terms of existing or proposed lease agreements between private land owners or groups might best be addressed by private legal counsel.
Websites & News Links
Websites
News Links
Presentations
FREQUENTLY ASKED QUESTIONS

What might happen if an exploration company is interested in leasing the mineral rights on my property?
Typically, a landman offers a per-acre amount to lease the mineral rights and a percentage of royalties from any production that is realized.
What are surface rights?
The term "surface rights" refers to the rights of use and enjoyment of property above ground, such as residential, agricultural, or commercial purposes.
What are mineral rights?
The term "mineral rights" generally refers to the right to explore and develop property for the production of oil, gas, and other minerals occurring naturally in liquid or gaseous form and to reduce them to possession and ownership. Ownership of land does not include ownership of such minerals, but the landowner or owner of a mineral servitude has the exclusive right to explore and develop the property for the production of minerals."
How do I know if I own the mineral rights on my property?
Owning land does not automatically mean you own the mineral rights to property. A search of your deed or property title at your parish clerk of court's office can tell you whether you own your mineral rights. If your current deed does not specifically discuss minerals, you may need to contact a professional in title research. In Louisiana, mineral rights can only be reserved (held by the seller of surface property) for ten years, either from the date of sale or from the date of the last exploration activity or production of minerals from the land. If there is no mineral development on the property in that time period, the mineral rights then automatically transfer to the buyer.
What is unitization of wells?
Unitization of oil and gas reservoirs in the state is a critical activity achieved by industry and state government working together. It is important to mineral rights owners because of the economic gain once a well is produced. At the request of an applicant or operator, an oil or gas unit is established for a sand, a zone, or a shale or formation. Unitization allows maximal recovery of the resource, prevents drilling unnecessary wells, and protects the rights of the mineral owners. Learn more here.
What is forced pooling?
The size of development well units is 640 acres or about one square mile. All mineral ownership within the 640-acres unit is initially shared in the production of a single well located within that unit on a surface-acre basis. This means that your square is 'pooled' with others in the unit.
Where do I go to find information about my property and my land rights?
The Clerk of Court in your parish is the office to go to find legally recorded documents such as mineral leases, contracts, deeds and mortgages. Landowners with questions may also want to consult with an attorney for help with ownership issues.
Do state government regulations help protect property and protect the environment as they relate to drilling operations in the state?
Yes, Louisiana laws have both property and environmental protections under rules within the Office of Conservation. The Louisiana Administrative Code, Title 43 and the Office of Conservations' Statewide Order 29-B explain the regulations governing the state's natural resources. Learn more here.
If my property is located above the TMS formation, is there retrievable gas below my property?
Not always. Exploration companies have expressed confidence that some areas of the shale formation have abundant natural gas that can be tapped using newer drilling methods, but that does not mean all parts of the formation will produce.